Custom Corporate Trip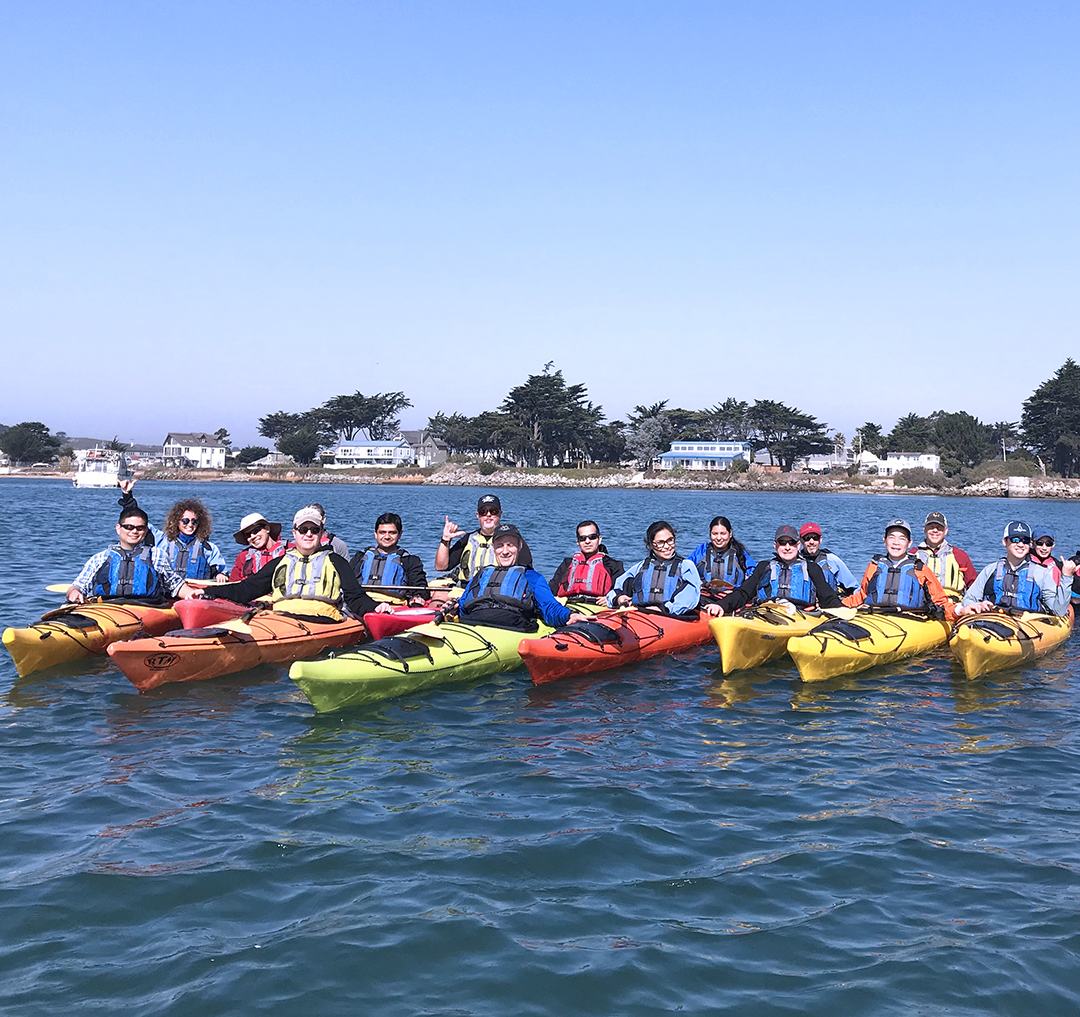 Corporate Trip
$185 a person, $205 with box lunches
(4 hour program, duration and times flexible to your schedule)*
Due to the nature of variables with this trip it can only be booked online after speaking with our staff and choosing a date.

(tips for guides not included)

Book a Corporate Trip
Our Corporate and Team Building staff has years of experience working with groups of professionals such as your business. We will custom tailor an experience to suit your needs and run your team through a series of fun and interactive activities on land and on the water. These activities will bond and energize your business professionals. They will learn how to work better as a team and understand each others strengths and weaknesses. This will lead to a better working atmosphere and increased productivity. The outdoors helps offer a relaxed environment allowing for a fun and informative day. Just listen to what other business professionals are saying:
"Half Moon Bay Kayak Co. provided a wonderful team building and group bonding experience for our department's retreat. The staff lead us through a number of activities on the beach and in the water which addressed topics such as; trust, teamwork, leadership, working with different personalities, and thinking outside of the box. The afternoon with Half Moon Bay Kayak energized our team, helped us learn more about each other and provided the perfect team building experience that our staff will always remember."
~Mike Wallace The Stanford Fund, Stanford University
On land interactive problem solving instead of boring lectures
Group development and trust exercises tailored for your business
Tasks which give a strong sense of teamwork and accomplishment
Please email us with inquiries:
In the interest of safety and group comfort, all of our guided kayak tours are run in double kayaks.
Dress:
We provide wetsuits and waterproof paddle jackets for all classes, rentals, and tours. You bring sun block, sunglasses with retention strap, synthetic sweater, shoes that can get wet, and a hat. A change of dry clothes and a towel is recommended in case you get wet during the trip.
Signing up with Half Moon Bay Kayak Company: To ensure that you get the date you prefer, please email info@hmbkayak.com to make trip reservations early. All HMB Kayak Co. events are subject to cancellation due to weather and lack of paddlers. There is no charge if HMB Kayak Co. cancels at any time, or if you cancel one week or more prior to your event. If you cancel less than a week before your event, you will be charged the full amount. For an additional $25 per person, you can reschedule for another trip this year. Sorry, there is no refund or credit for no shows.