Bike Rental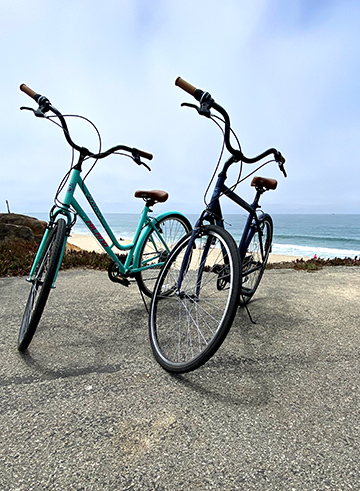 Bikes
$20 Hour/$50 a Day
Ride the famous HMB Coastal Trail!
Half Moon Bay State Park's Coastside Trail runs parallel to the Pacific Coast along what used to be the Ocean Shore Railroad. The railroad itself was in operation for just 14 years before it was driven out of business in the early 1920s by the automobile. However, the railroad had a tremendous effect on the Northern California coastline. It opened the area to agriculture, created new communities along the shoreline and made the coastal beaches prime tourist destinations.
The Coastside Trail is truly a destination trail. It offers sweeping views of the Pacific Ocean, access to several beaches and excellent nature viewing. Bird watching is quite good and a popular activity here. Red-tailed hawks, blue herons and red-winged blackbirds are spotted frequently, and large hawks can often be seen perched on benches and the trail's split-rail fence. Half Moon Bay State Beach is also home of the world-famous Mavericks, a surfing spot near Pillar Point that's visible from the trail. In winter, surfers can ride waves up to 80 feet high here.
(Description courtesy of Trailink.com)
Please use the booking button above for reservations and availability. 
Questions?  Phone: 650.773.6101, info@hmbkayak.com
We provide helmets and locks for all bike rentals. You bring sun block, sunglasses with retention strap, synthetic sweater, shoes, and a hat.