Kids Kayak Fishing Camp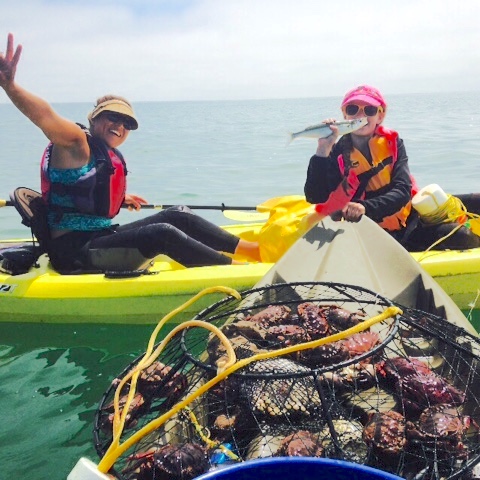 We invite you to the Kids Kayak Fishing Camp to learn the fun and exciting sport of kayak fishing with us at Half Moon Bay Kayak Company. We use sit-on-top kayaks specially designed for fishing. You will learn to navigate, manage risk as well as how to catch, clean handle fish from a kayak.
Campers will learn to fish the local waters as well as waters abroad. We'll be both crabbing and fishing from our craft, surf fishing the coast-side beaches and visiting 2 Bay Area lakes for some freshwater fishing as well.
Gear and cooking instructions included, campers are welcome to bring their own fishing gear.
Ages: 13 – 15
9am-4pm
Cost: $600
Summer 2017 Dates:
June 19th-23rd
June 26th-30th
(Four participant minimum. Campers need to bring a lunch, water bottle, water shoes, a change of warm dry clothes and a towel. All kayaking gear is provided, including wetsuits and paddling jackets.)
Dress:
We provide wetsuits and waterproof paddle jackets for all classes, rentals, and tours. You bring sun block, sunglasses with retention strap, synthetic sweater, shoes that can get wet, and a hat. A change of dry clothes and a towel is recommended in case you get wet during the trip.
Signing up with Half Moon Bay Kayak Company: To ensure that you get the date you prefer, please call 650.773.6101 to make trip reservations early. All HMB Kayak Co. events are subject to cancellation due to weather and lack of paddlers. There is no charge if HMB Kayak Co. cancels at any time, or if you cancel one week or more prior to your event. If you cancel less than a week before your event, you will be charged the full amount. For an additional $25 per person, you can reschedule for another trip this year. Sorry, there is no refund or credit for no shows.