Kayak Crabbing Tour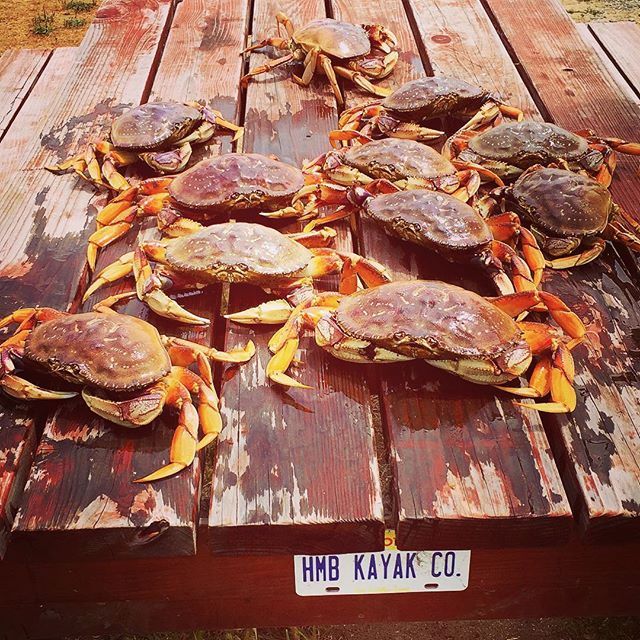 $200 a person
2 person minimum
(4 hour trip)
Due to the nature of variables with this trip it can only be booked online after speaking with our staff and choosing a date.
(tips for guides not included)
The HMB KAYAK CRABBING TOUR allows you a unique opportunity to catch dungeness crab by paddling out and setting your own traps. This tour comes equipped with a highly experienced guide who has extensive knowledge of the area and the tactic needed to have a great day on the water.  You will also be learning, both the kayaking and fishing skills, that you will need to go kayaking and fishing on your own. You could take up to 10 dungeness crabs per person. The value of the crab alone will more than cover the cost of the tour. Crabbing from a kayak is surprisingly easy and a lot of fun. Come join us for what is sure to be a fun, rewarding and finally delicious experience.
Times are flexible to your schedule however final availability depends on the schedule of a HMB Kayak Co. qualified guide.
Please email or call us for more information…
info@hmbkayak.com
650.773.6101
Dress
We provide wetsuits and waterproof paddle jackets for all classes, rentals, and tours. You bring sun block, sunglasses with retention strap, synthetic sweater, shoes that can get wet, and a hat. A change of dry clothes is recommended in case you get wet during the trip.
Signing up with Half Moon Bay Kayak Company: To ensure that you get the date you prefer, please call 650.773.6101 to make trip reservations early. All HMB Kayak Co. events are subject to cancellation due to weather and lack of paddlers. There is no charge if HMB Kayak Co. cancels at any time, or if you cancel one week or more prior to your event. If you cancel less than a week before your event, you will be charged the full amount. For an additional $25 per person, you can reschedule for another trip this year. Sorry, there is no refund or credit for no shows.