East Cape, Baja California Sur, Mexico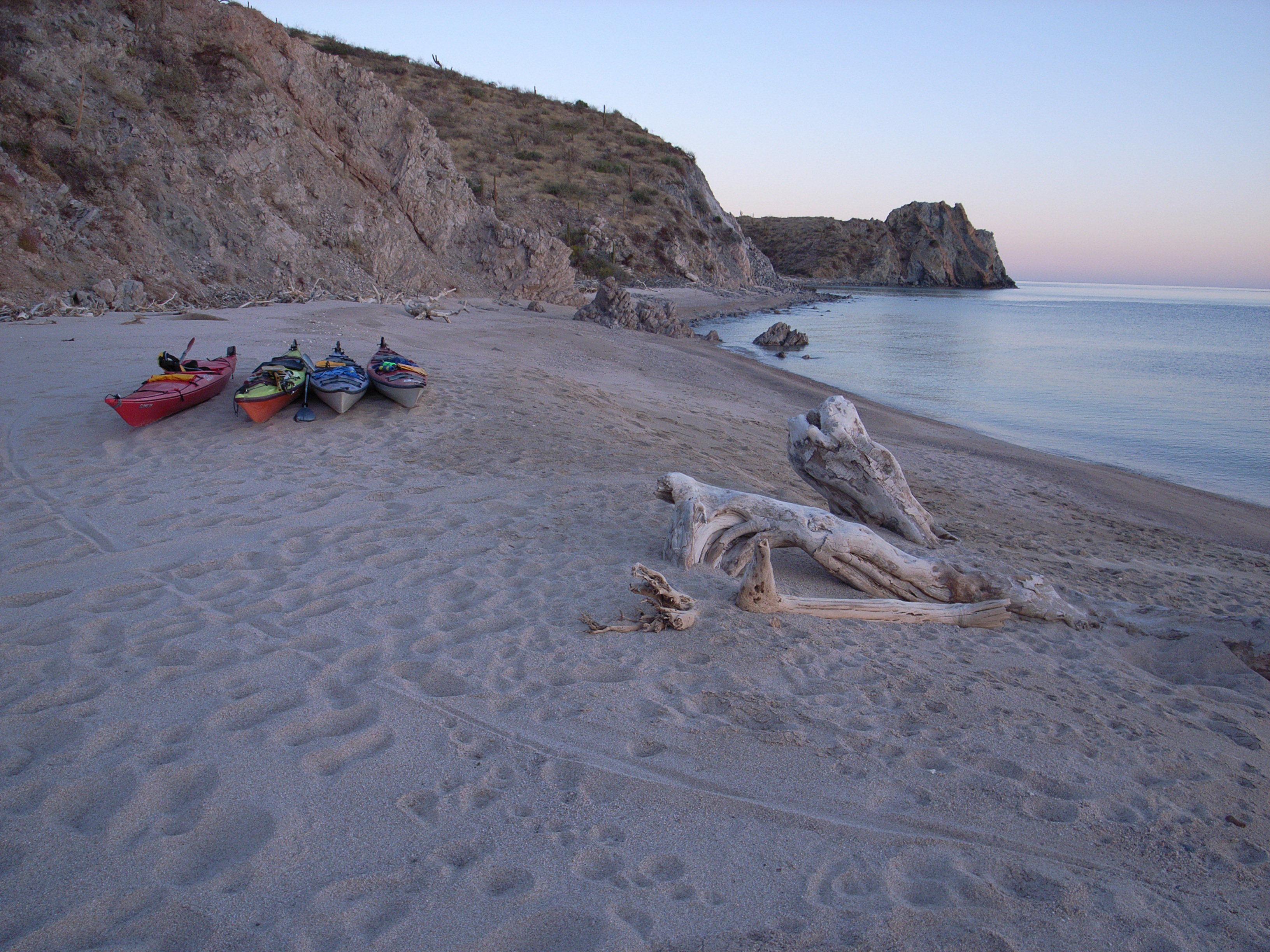 10 days—$2700 (airfare to La Paz not included)
Level two Surf Zone graduates (or equivalent experience) can join us for a 10-day expedition on the Sea of Cortez coast of Baja California in Mexico. Starting just SE of La Paz, you will be led down the coast by competent professionals. Chris Manchester grew up in this area since 1989 and knows the coast as well as the weather.  The opportunity for cultural experience is exceptional — we'll interact with the local fishermen and see remote villages rarely visited by tourists. A true expedition trip, we'll be paddling long days while sleeping in tents at night and carrying all our own food and water. We'll end our expedition by paddling into the small village of Cabo Pulmo where the only living growing reef system of the Sea of Cortez exists.
Feel free to call or email us with any questions or concerns about this trip. 650.678.8567 info@hmbkayak.com
Click here for some more client photos
See the world from a kayak…
Itinerary
Day 1: Fly into La Paz, Mexico (LAP)
Your trip will begin with you flying into La Paz, Baja California Sur Mexico. You will be greeted by your guides and shuttled to the Crown Seven Hotel in the heart of the Malecón. There you will stay the night and finish last minute gear planning. You can have a last meal out on the town if you choose before the trip to get aquainted with the group. Your hotel and the evenings meal will be included. Early the following morning you will be shuttled to your launch spot east of the city. You will spend the next seven days on the water, weather permitting.
Day 2: Drop Off East of Town
The second day will begin with the shuttle out of town followed by an unload of the truck on a beautiful southern Baja beach. Once all the gear is unloaded we will say goodbye to our land transportation and rely solely on ourselves and the kayaks to paddle down the coast for the next 90 miles. We will load our kayaks on the beach with food water and gear then launch for a short afternoon paddle around the point to camp for the night. Your meal will be cooked by your guides while you relax taking in the view on a deserted beach.
Day 3: Paddle Past Las Cruces and camp near Punta Coloradita
The third day will begin with breakfast, boat loading and launching and paddling down past the small village of Las Cruses. With a missiion on the hill and three crosses on the point it is a reminder of the massacre that occured when the spanish landed here hundreds of years ago. Our paddle that day should end somewhere around Punta Coloradita, a few miles north of the small town of El Sargento to set us up for the crossing to the lighthouse at Punta Arena La Ventana.
Day 4: Crossing to Punta Arena La Ventana
The fourth day assuming things are running smooth and we have good weather, we will attempt to cross Bahia La Ventana and camp on Punta Arena Ventana which is a beatiful point of sand with an old white mexican lighthouse perched on the sand dune. We will be enveloped by the view and get a goods nights rest for the following long day to the small town of El Cardonal on Punta Pescadero.
Day 5: Punta Pescadero to Buena Vista
Buena Vista is the midway point from Punta Pescadero to Punta Arena. A bustling little town Buena Vista will be the water re-ration. We can grab fresh food and drinks here as well. Or just paddle by leisurely while stopping to swim or maybe grab lunch before finding a place to camp and be ready to paddle to Punta Arena.
Day 6: Buena Vista to Punta Arena
Once we arrive at Punta Arena we are poised to cross to Cabo pulmo. Cabo Pulmo is the take out point where we will have a small villa room to take showers, consolidate gear and trash, and spend a wonderful evening at dinner with the group before pick-up the following morning. Cabo Pulmo is known for it's living reef system that is the only reef growing in the Sea of Cortez.
Day 7: Pick up and shuttle
We will be picked up at 8:00am and load gear on the truck. We will then drive back to La Paz (about 1 and a half hours) and return to our Hotel Seven Crown. We can then relax or take in the town for some shopping. The following day will be the planned plane flights so you will either take a cab to the airport or be shuttled by the truck.
Day 8: Travel Day
We have 2 extra days in there for weather or just a stop over day along the route. It should give us a buffer to be able to finish the trip. All guides will have either a Wilderness First Aid certification or a Wilderness First Responder from the Wilderness Medicine Institute. We will also be carrying a satellite phone with us in case of an emergency or a change in plans.
If you are interested in a Baja expedition please call for more information.
We need at least 2 people to make this expedition happen.