Half Moon Bay Kayak Co.
Kids Programs
Your kids will love the sport of sea kayaking, whether a short day trip or one of our five day kids camps we have ways to get them and you outside and smiling.
Take the Kids Sea Kayaking Adults $65 / Kids $35 (This is a three hour trip.)
This is a great way to introduce your family to the sport of sea kayaking. After a brief boat and safety orientation, we will launch our kayaks and paddle across the protected harbor among the sea birds and harbor seals. We'll land on the other side of the harbor at Pillar Point, walk across the sand spit, and explore the aquatic life of the tide pools at low tide, before returning in our kayaks to our departure point.
Dress:
We provide wetsuits and waterproof paddle jackets for all classes, rentals, and tours. You bring sun block, sunglasses with retention strap, synthetic sweater, shoes that can get wet, and a hat. A change of dry clothes and a towel is recommended in case you get wet during the trip.
| | | |
| --- | --- | --- |
| 2012 | Dates | Start Time |
| January | | |
| February | | |
| March | | |
| April | | |
| May | | |
| June | | |
| July | | |
| August | | |
| September | | |
| October | | |
| November | | |
| December | | |
There are no weekend dates with low enough tide over the summer months. If you are interested in this trip on a week day during the summer please contact us and we will work with you to find a date that will work for you and your family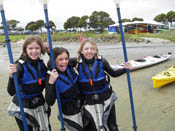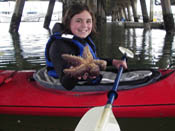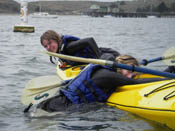 Kayak Camp

Pillar Point Harbor is the perfect setting for five days of fun as you learn how to sea kayak while exploring our aquatic backyard.
Each day you'll learn new skills paddling single and double kayaks, practicing rescues, reading the tides and charts, and exploring the protected waters of Half Moon Bay. Our goal is to teach camp members what makes our area such a rich environment. We'll explore the marine life in tide pools and take short hikes in the Fitzgerald Marine Reserve as we learn about the natural wonders of the Coastside.

Ages: 9-12
Cost: $235
Kayak Surfing Camp
We invite you to come and learn the fun and exciting sport of kayak surfing with us at Half Moon Bay Kayak Company. We use sit-on-top kayaks specially designed for surfing. You will learn to navigate safely in and out of the surf zone as well as how to catch, surf and maneuver on the waves at Surfers Beach.

Ages: 12 - 15
Cost: $330
| | | |
| --- | --- | --- |
| 2012 | Dates | Start Time |
| January | | |
| February | | |
| March | | |
| April | | |
| May | | |
| June | | |
| July | 16th-20th | 9am-1:30pm |
| August | | |
| September | | |
| October | | |
| November | | |
| December | | |
(Four participant minimum. Campers need to bring a lunch, water bottle, water shoes, a change of warm dry clothes and a towel. All kayaking gear is provided, including wetsuits and paddling jackets.)

Kayla was 12 years old here when she was kayak surfing during a kids camp in 2005!
Signing up with Half Moon Bay Kayak Company: To ensure that you get the date you prefer, please call 650.773.6101 to make trip reservations early. All HMB Kayak Co. events are subject to cancellation due to weather and lack of paddlers. There is no charge if HMB Kayak Co. cancels at any time, or if you cancel one week or more prior to your event. If you cancel less than a week before your event, you will be charged the full amount. For an additional $25 per person, you can reschedule for another trip this year. Sorry, there is no refund or credit for no shows.